Faculty Lightning Talks
Wiggins Memorial Library is excited to showcase faculty research through the Lightning Talks series. Hosted in the Periodicals Reading Room, the Faculty Lightning Talks provide an informal, fast-paced introduction to research conducted by Campbell University faculty through brief presentations.
Upcoming Lightning Talks
Please join us Friday, February 17 @ 2pm for our faculty lightning talks event. You will hear fast-paced presentations from: Dr. Jennifer Bashaw (Christian Studies), Dr. Paige Brown (Pharmacy Practice/IPE) and Dr. Stephanie Mathews (Biological Sciences).
For more information visit https://campbell.libcal.com/event/9991019.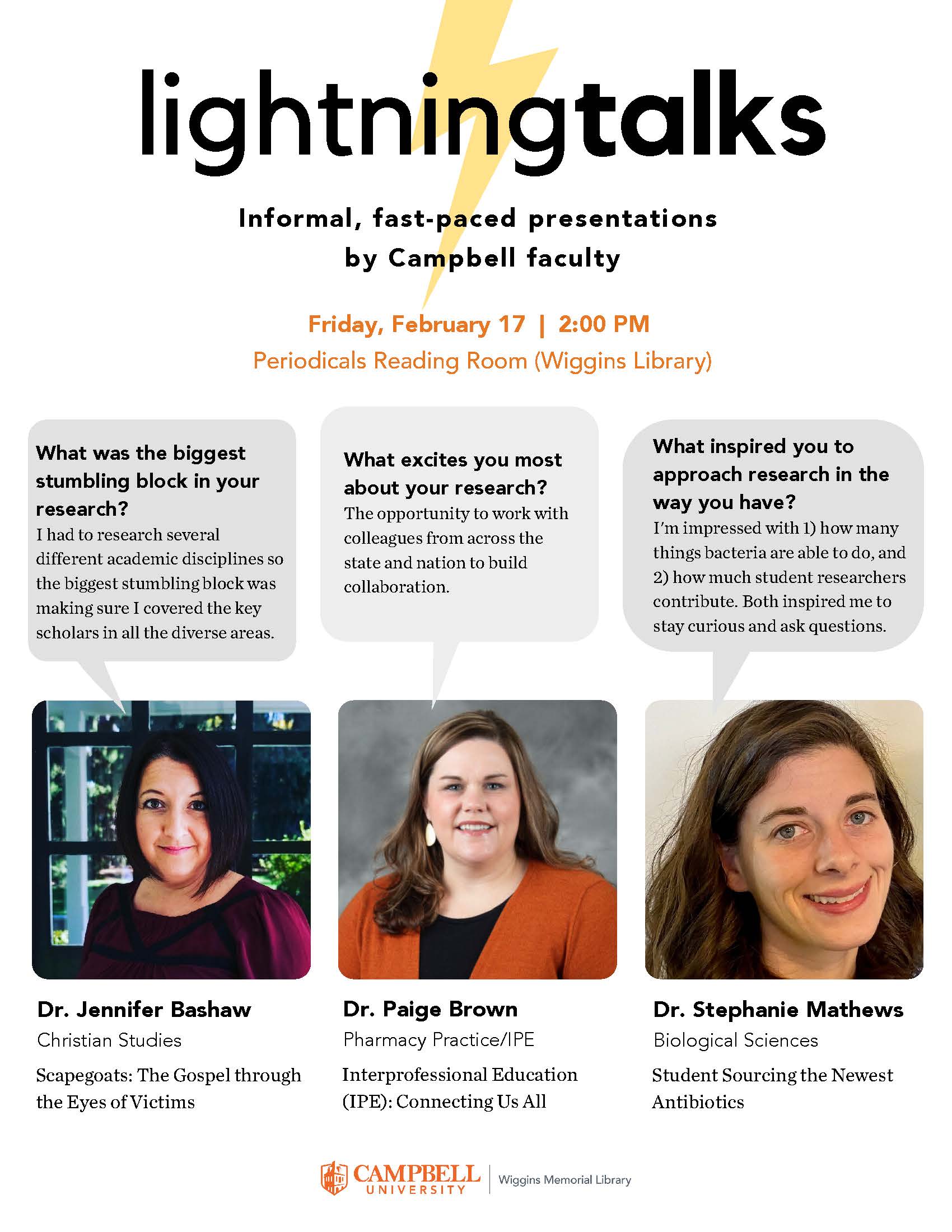 Past Lightning Talks Events
Dr. Terrie Bethea-Hampton
Director of Teaching Scholars, Technology Coordinator, School of Education
Dr. Bonnie Brenseke
Chair of Biomedical Pathology, School of Osteopathic Medicine
Dr. LaKeshia Darden

Dr. Peter Ahiawodzi
Associate Professor of Epidemiology, College of Pharmacy and Health Sciences
Dr. Barry Jones
Professor of Old Testament and Hebrew, School of Divinity
Dr. Nicole Rushing and Dr. Katherine Van Allen
Assistant Professors of Psychology, School of Education
Dr. Andrew Muzyk
Associate Professor of Pharmacy Practice, College of Pharmacy and Health Sciences
Video
Dr. Sherry Truffin
Associate Professor of English, College of Arts and Sciences
Video
Dr. Jennifer Wagstaff
Assistant Professor of Counseling, School of Education
Video
Dr. Brian Foreman
Associate Campus Minister, Director of Youth Theology Institute
Dr. Mathew Gregoski
Exercise Science, College of Arts and Sciences
Dr. Lilian MacNell
Public Health, College of Pharmacy and Health Sciences
Dr. Tim Bloom
Pharmaceutical Sciences, College of Pharmacy and Health Sciences
Publication rates as a measure of faculty productivity in teaching-focused schools of pharmacy
Dr. Amanda Parker
Homeland Security, College of Arts and Sciences
ISIS and Social Media
Mr. Bert Wallace
Theatre Arts, College of Arts and Sciences
Theatre in 16th Century Puerto Rico
Dr. Ran Whitley
Music, College of Arts & Sciences
A set of counterpoints to Joannes Rochut's Melodious Etudes
Dr. Scott Perkins
Pharmacy, College of Pharmacy & Health Sciences
Exercise devices for control of Type 2 Diabetes
Dr. Jaclyn Stanke
History, College of Arts & Sciences
The depiction of the Chernobyl disaster in American popular culture
PowerPoint Presentation for the Lightning Talks
Lightning Talks Flyer
Dr. Greg Dedrick
Physical Therapy, College of Pharmacy & Health Sciences
Muscle function and spinal stabilization in the clinic
Video
Dr. Kenneth Morefield
English, College of Arts & Sciences
Emma, Merida, and the Female Bildungsroman
Video
Dr. Alicia Myers
Divinity School
You are who you drink: About milk and character formation in the New Testament
Video
Dr. J. Christopher Havran
Biology, College of Arts & Sciences
Historical botany: The biogeography of two families of Hawai'ian plants
Video
Dr. John Mero
Political Science, College of Arts & Sciences
Interview-based research: The influence of DUI laws on Elks Club membership
Video
Dr. Elizabeth Rambo
English, College of Arts & Sciences
Media and literature: Sarcasm in medieval literature, and the medieval aspects of the CW's "Reign"
Video
PowerPoint Presentation for the Lightning Talks
Archived Video of the Lightning Talks
Lightning Talks Flyer
Dr. W. Glenn Jonas
Religion, College of Arts & Sciences
The local history of a Raleigh church
Dr. Elizabeth Lange
Exercise Science, College of Arts & Sciences
The impact of race on employment expectations among undergraduate in exercise and sports fields
Dr. Qinfeng (Sarah) Liu
Pharmaceutical Sciences, College of Pharmacy & Health Sciences
Anything but boring: Cancer biomarker discovery, drug delivery, formulation, and toxicology